The 10 Be's of Positivity
In this accessible, practical book, Lynette Turner shares with the reader ten steps she has incorporated into her life that have enabled her to live a life full of light, peace, happiness and ultimately positivity. She believes you can do so as well.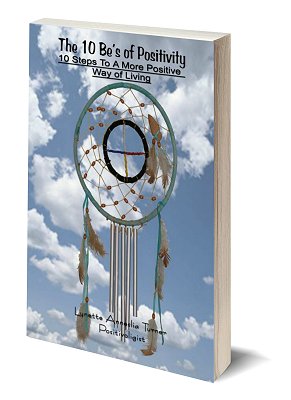 Journey through this book and encounter tips on how to:
Be Honest
Be You (your authentic self)
Be Open-Minded
Be Loving
Be a Good Listener
Be Grateful
Be Spiritual
Be Positive
Be Forgiving
Be Present/In The Moment
This self-help book can be referred to time and time again as a gentle reminder of a positive path one can take in order to appreciate and enjoy life to the fullest. "This is a practical book, filled with wisdom, which can easily be applied to one's daily life. The changes it can coach you into creating will help you to enhance the quality of your life and heal your emotional wounds." – Bernie Siegel MD author of 365 Prescriptions For The Soul and Love, Magic and Mud Pies "What a perfect book! THE 10 BE'S OF POSITIVITY™ is wonderful, brief and my kind of book. The 10 BE's are easy to remember and will help every reader live life to the fullest and be happy." – Dr. Robert Muller is co-founder of the University of Peace, served as Assistant Secretary General of the United Nations, and is author of several books including Most of All They Taught Me Happiness Marble House Editions, 2007, 77 pages, ISBN 0-9786745-5-3
The 10 Be's of Positivity! Paperback  $11.00 + $2.50 S&H
The 10 Be's of Positivity! E-Book $8.00
FREE SHIPPING when you Order 5 or more Books!
Paperback:  $11.00 each Shipping and Handling:  $0.00
"What a perfect book! The 10 Be's of Positivity ™ is wonderful, brief and my kind of book. The 10 BE's are easy to remember and will help every reader live life to the fullest and be happy."
Dr. Robert Muller is co-founder of the University of Peace, served as Assistant Secretary General of the United Nations, and is author of several books, including Most of All They Taught Me Happiness
"Lynette Turner spreads sunshine wherever she goes. The ten steps to positive living she offers in her heart-centered book will help you reach for the joy behind the clouds of even the darkest day."
Robert Moss is the author of Conscious Dreaming
"Do something positive for yourself; buy and read this excellent book. When you apply Lynette's 10 Be's Of Positivity to your life your true self will emerge enabling you to live the life you were meant to live and to fully become the person you were meant to be."
Trudy Griswold is a spiritual success coach and author of Angelspeake: How To Talk With Your Angels
"Lynette Turner's book the 10 Be's of Positivity is a must read for anyone wishing to understand and expand their well being in life. Lynette's comprehension of happiness is matched by her living each of the 10 B's in her own life. Be Happy Now! Buy this extraordinary and illuminating book and reach out to B all you can B!" Sharing Love, Peace and Happiness with you, Lionel Ketchian www.happinessclub.com
Lionel Ketchian is the founder of The Happiness Club and author or Food For Thought
"During these times of transformation The 10 Be's of Positivity opens the door to introspection and healing with a loving gentle nudge. Lynette shares from her heart personal anecdotes, sweetly whispers questions to the reader and offers powerful positive suggestions to initiate the change the reader desires. It is a cheerleader of support and love in book form!"
Kate Large, Leading Authority on the teachings of Florence Scovel Shinn, author of Waiting in the Other Room and The Game of Life Workbook
"Having known Lynette for several years now, I see how her positive attitude, light and gratitude shines like a beacon. It illuminates the place where she is with a beautiful atmosphere. She is a sterling example of her philosophy and the great effects it generates ."
Paul Brunner
"Loved it – very captivating! Thank You!"
Lisa Nastu
"Lynette Turner's, The Ten Be's of Positivity is very uplifting and a practical guide to how to start living a more positive and fulfilling life."
Beth Lazar
"Lynette, you are so right about the importance of staying in the moment. Thank you!" Carol Joyce
"I am certain that The 10 Be's of Positivity will truly bless others lives." Marla Durling
B.L.I.S.S. Believe Life Is Something Special