Lynette's 10 Be's of Positivity Press Kit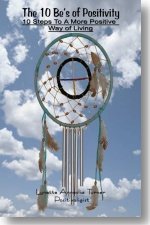 Book Bio
Lynette Turner, author of the 10 Be's of Positivity, 10 Steps To A More Positive Way of Living, has been a writer for more than 20 years, writing primarily poetry, and has been published in the journals Dream Shaman, Nomad's Journey, The International Book of Poetry (two volumes), poetry websites and several Connecticut chapbooks. She has also written a book entitled When Rivers Speak in Tongues, a journal book documenting 30 days of one of her trips to West Africa, where by way of an individual artist's choreography grant, she studied the music, storytelling, customs and instruments of West Africa.

In addition to Lynette's workshop based on her book, The 10 Be's of Positivity, she also teaches workshops on dream interpretation, and an Angelspeake© workshop, (which teaches participants how to connect to their Angels).

Lynette has been active in the arts for over 30 years. She has her BFA in theatre from The University of Utah and spent 13 years at Perseverance Theatre in Juneau Alaska as a writer actor, director, choreographer, and producing director, before moving to the east coast a decade ago.

A motivational speaker and a Positivoligist™, Lynette is excited to share her philosophy of how she lives her life by way of this book. Her passion in life is helping people; helping them realize that they are worthy of all they desire and that we each have the power to chart our own course. In addition to being a Positivoligist™, Lynette is a certified Angelspeake™ facilitator, certified dream teacher with the Robert Moss School of Active Dreaming, a Reiki practitioner, and singer/songwriter. Her first two CDs, Songbird Serenade, On the Wings of Angels, and Coming of Age; A Trilogy of Mindful Meditations, were released on Free to Fly Records and are available through her website, www.positivebliss.com. She is also a sound healing practitioner having completed professional training in sound healing conducted by Tom Kenyon, under the auspices of Acoustic Brain Research.

An avid traveler, Lynette has traveled to several locations around the world, including Africa: West, (Dakar, The Gambia), Central (Douala, Yaounde, Limbe) and North Africa (Morocco, Fez, Tangiers), Jamaica, Costa Rica, the Virgin Islands, Monte Carlo, Portugal, Spain and spent three months traveling through Mexico.

We hope you will enjoy the 10 Be's of Positivity and all the practical and applicable advice it has to offer.
"A portion of the book proceeds will be donated to the
African Institute for Democracy and development in Cameroon, Central Africa."






Let's Spread the Word!
I am on a journey to engage like-minded people on the path of positivity. Please share this website with others and ask them to sign up below to receive a Free weekly Positivity Message and share the Power of Positivity with the world.